Formal Limousines
School Formal Limousines
Its that time of year to let your hair down and enjoy your school formal in style. We have formal limousines such as the stretch LTD and the Chrysler 300C or the Chrysler stretch on offer.
We understand the importance of your school formal, and our chauffeurs will make sure that everything goes to plan.
Allowing your personal chauffeur to trasport you and friends, in our stylish formal limousines. To get the mood right for big night, you can request or supply your own choice of music for us to play on our premium sound system.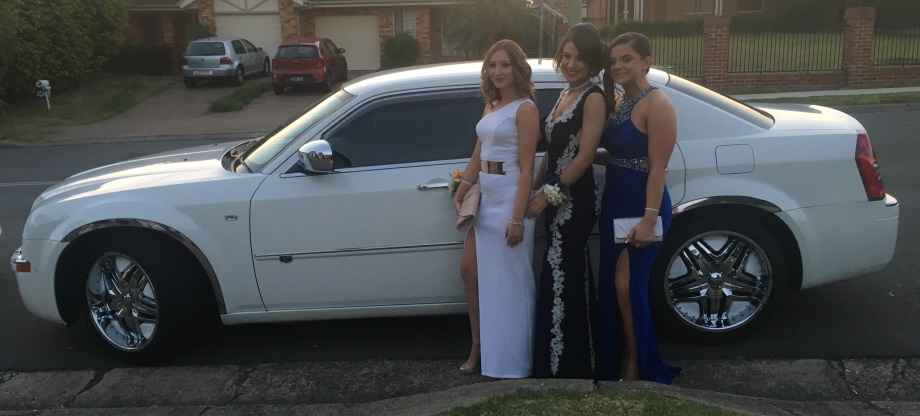 Sydney traffic
Within the Sydney region we have got to know where there could be potential traffic snarl-ups, and thus we're able to avoid any delays in getting you to your destination or venue on time. Leaving you and your guests to relax and enjoy the comfortable ride in one of our luxury cars.
We also assist the photographers, if they want us to do so, in regard to suggesting places where it is conducive to taking great photos with the Limousines or other cars. We will do this by assisting in the planning stages, or by providing some ideas on the day itself.
After the formal
At the end of your formal, why not arrange it with us at Stylish Limousines to chauffeur you to your after party, or drive you safely back home without dealing with a taxi or public transport.
We are committed to providing you with the highest quality limousine hire service available, 7 days a week. Our hire vehicles are either white LTD stretch limo, or Chrysler 300 limousines.
Share the formal limousine costs
Many of our guests choose either the 7-seater stretch formal limousines, or the 10 seater, and then share the costs with friends. A good way to travel in style!
All of our vehicles are fully air conditioned for your comfort and come with CD or MP3 player, so bring your favourite CD or MP3 track listing, sit back relax and enjoy.
If you've been thinking of a formal limousines or the Chrysler 300, call us on (M) 0450 705 466 or use our contact form.